LINEX Sp. z o.o. is a leading manufacturer of automotive control cables on the Polish and European markets. The company's production concentrates mainly on control cables, Bowden cables, i.e. accelerator cables, brake cables, clutch cables, gear shift links, doors, bonnet and boot opening control cables, pull-push cables, conduits and casings, dedicated for most car makes. Our products are delivered both to the spare parts market (AFTERMARKET) and for the first assembly in newly manufactured vehicles (OEM).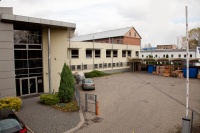 We have attained the position of the European leader on the aftermarket by offering a very wide range of products covering almost all car makes and types of vehicles, and by excellent quality guaranteed with IATF 16949:2016 certificate, an attractive price level, and our dedication to constantly improve customer satisfaction.
50 years of experience in the automotive industry, large production capacity, flexibility and a fast adaptation to market needs, have been constantly strengthening our competitive advantage.  Thanks to them, we have increased yearly the supply level and the number of projects for the OEM market. Today, 35 % of the LINEX turnover is in sales to automotive factories for the purpose of the first assembly for car makes such as SEAT, VW, FIAT, OPEL, PEUGEOT, MERCEDES, AUDI, Maserati, Jaguar, Peugeot, BMW. In addition to the automotive industry, we manufacture and supply control cables and wires of different construction, as well as other products according to technical documentation and customer requirements for the medical, welding, lighting, construction and even knitting markets.
Tradition, development and quality - these are the pillars of LINEX Sp. z o.o. history - the company which, thanks to a coherent vision of its owners, their dedication to the development and consistency in the quest to achieve the highest quality of products, has made LINEX a brand recognized all across Europe.